Do Not Close This Page
1 last thing

…
I want to offer you one last exclusive offer to thank you for becoming a new member today…
*Not interested? And just want to go to the regular Members Area? Then please scroll to the bottom of this page to register your purchase and get started. Otherwise, please take a look at our special offer below:
*But YOU MUST choose to "Accept" or "Decline" below to complete your order*
Do you have the 38 Food Items You and Your Family
Can't Get In a Disaster

 a
nd May Not Survive Without...
We need to talk. There're some serious events about to hit the US and the rest of the world.
Things are rapidly changing and the bottom-line is, any disaster (big or small) could force you and your family to go weeks without food, water, and other things essential to survival. Without the essentials we may not survive.  And there's going to be no way to get them when a crisis hits (or when the news even hints that a crisis is coming).
Think about it... Most people don't think any real disasters will ever happen – or at least, won't happen to them (maybe this is what you're thinking).
But ask yourself... 
How would you and your family live (and survive) during weeks of rolling blackouts, snowstorms, hurricanes, or floods …or if the energy grid goes down, a terrorist attack happens, or there is an economic collapse. Or even if angry labor unions begin protesting and refuse to ship food.
All of these crisis scenarios will whip mass amounts of people into a "panic-buying" frenzy – forcing them to grab any food they can get their hands on – possibly leaving grocery stores shelves empty for weeks (or longer). Will you and your family be ready for situations like this – no food, looters, and panic in the streets?
Or will you be forced to beg neighbors for food or be shipped off to FEMA camps for survival?
In each case (and in any other crisis or disaster), you have 2 choices…
(#1) You Can Put All Your Hopes For Survival In The Government & FEMA…
OR
(#2) You Can Take Survival Into Your Own Hands and prepare now…
And that's where our
"Survive After Crisis System"

comes in…
| | | |
| --- | --- | --- |
| | Survive After Crisis System | |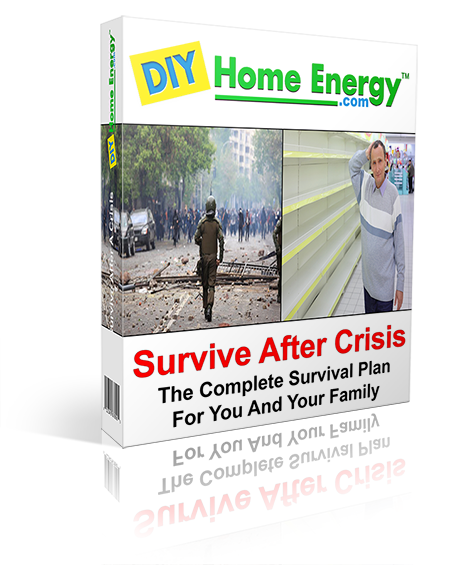 In our "Survive After Crisis System" we teamed up with several renowned survival & preparedness experts and go over the exact steps you must follow today to ensure that you and your family not only survive, but also thrive during any disaster.
This guide covers everything you need to do to prepare for nearly every type of crisis that may be coming: from natural disasters ...to pandemics ...to food/water shortages ...to economic collapses. We walk you through everything you need to know.
This guide will ensure your family isn't vulnerable and unprepared.
And all of the information is broken down into simple steps and checklists for you to follow.
Here's just some of what we cover in the "Survive After Crisis System":
Don't leave you and your family vulnerable

and unprepared for food shortages, water shortages, and other crisis scenarios...
Get the "Survive After Crisis System" now and ensure that you and your family not only survive a crisis ...but thrive!
And instead of paying the regular price of $127 for the "Survive After Crisis System", you only have to make a 1-time payment of $27! ...And never penny more.
*We can only offer you this massive discount because you just ordered the DIY Home
Home Energy System. Once you leave this page you can never get this discount again*
Only $27
One-Time Payment
And you still have our Iron Clad 100% Money Back Guarantee Refund Policy.
So if you are not 100% Satisfied with all of the information here, just send us an email for an immediate refund, no questions asked.