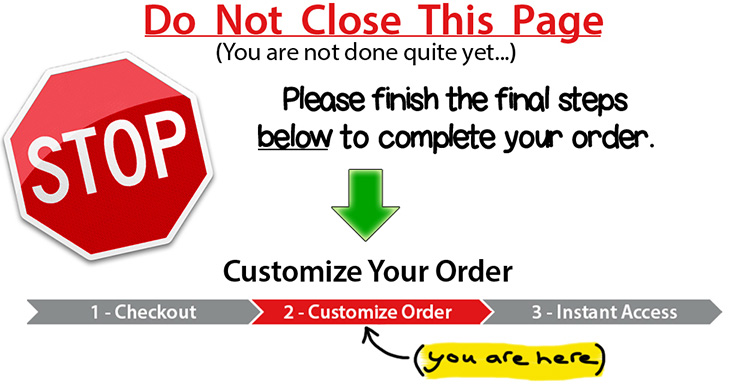 YOUR ACTION IS REQUIRED…
Order Customization Process:
First, Review This Page– Read the Exclusive One Time Offer below.
Second, Click "YES" or "NO" Below – You Must Click Either Yes or No.
Finally, View Order Details – View Your Final Order Details and Gain Access to the Members Area (where you can access the course materials).
Before you enter the "DIY Home Energy" Members Area...
We want to invite you to upgrade to our "

Platinum Upgrade

"
"DIY Home Energy Platinum Package"
Warning: This is the only time you will see this offer.
Once you leave this page, this offer will be gone forever. This exclusive offer is only available for customers who purchase today.
By upgrading to the
DIY Home Energy Platinum Package

 
today, you will get instant access to these
12 amazing products.
These products will dramatically accelerate your results and put you on the "Fast Track" towards energy independence and lower energy bills. You could easily save $1,000's with this library of information.
This is a must have for anyone serious about lowering their energy bills, breaking their dependence on Big Energy, and preparing and protecting their family from any kind of future power outage or energy crisis.
 Please make a selection below. Do not close this window.
| | | |
| --- | --- | --- |
| | Installation Super Package | |
($39 Value)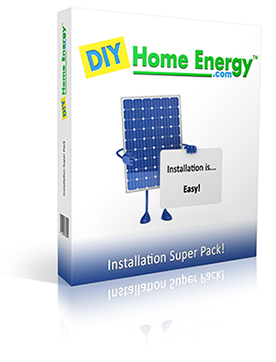 Once you build your solar panel system there are many different ways you can use your solar panels.
For example, are you looking to get totally off-grid or eliminate your energy bills entirely…
Or are you just looking to keep things real simple, build a smaller solar panel system to just shrink your energy bill somewhat?…
Or maybe you want to create a portable, backup energy system that you can bring anywhere and use as a "Backup Energy Supply"…
Well whatever you want… we will show you how to set it up and install everything correctly. Because the "Installation Super Pack" takes you by the hand and shows you step-by-step how to set-up, use, and install each different solar panel application.
You won't believe how easy the "Installation Super Pack" makes everything! And our customers say it's a must have for anyone wanting to simplify the process and get everything up and running in the shortest amount of time (and effort).
($42 Value)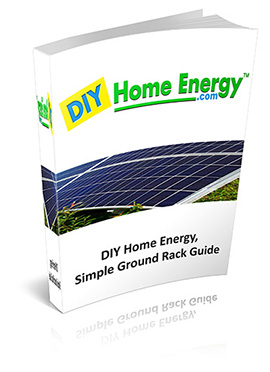 Once you build your solar panels, you'll want to secure them in a solar panel rack to protect them and also to angle them at the Sun properly so they get the maximum Sun exposure possible.
To do this, you can either buy an overpriced off the shelf kit and then attempt to put it together yourself …or you can hire an expensive contractor to do it for you. But both of these options are expensive and frustrating…
So we created the DIY Home Energy, SIMPLE Ground Rack which makes installation extremely easy and very inexpensive. And our fully illustrated, step-by-step, SIMPLE Ground Rack Guide shows you exactly how to easily and inexpensively build and use this rack.
In fact, our Simple Ground Rack can be built in about 30 minutes with just simple parts you can get at any home improvement store! Installing your solar panel on the rack is as simple as placing the finished rack in your yard (or somewhere outdoors) …then placing your finished solar panel on the rack …and you're done with installation!
There's no need to buy an overpriced and hard-to-build solar panel rack or installation kit
You won't have to hire an expensive contractor during installation
Your solar panel will be protected, secure, and angled at the Sun properly
And you also won't have to climb on your roof or do anything that may be dangerous during installation (because our Simple Rack can be placed anywhere on the ground in your yard)
How To Recondition Batteries At Home Guide
(So you can build a quality Battery Bank very

inexpensively

!)
($47 Value)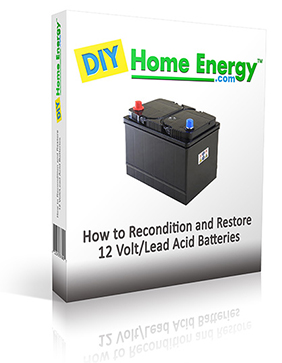 You are going to want to store all of the excess energy that your solar panels and wind turbines are producing so (#1) this energy is not wasted and so (#2) you can use it during the nighttime, when the Sun isn't shining, and (#3) as a backup energy supply.
To do this, you need a battery bank made up of 12 volt deep cycle batteries.
And while we already show you how to create a battery bank in the Member's area … the problem with this is…
Buying a bunch of new 12 volt, deep cycle batteries to do this can get very expensive.
So to save you a lot of money, we teamed up with some Battery restoration experts and created the exclusive DIY Home Energy, "12 Volt Battery Restoration Guide".
This amazing, fully illustrated guide will show you, step by step, how to:
Get free or very inexpensive used 12 volt deep cycle batteries
Easily and cheaply restore these batteries to brand new condition so you can use them in your battery bank instead of pricey new batteries
Save hundreds and hundreds of dollars when you build your battery bank because you will be able to build as big of a battery bank as you want …and the price of the batteries will no longer be a stumbling block
The DIY Home Energy
"Budget Solar Panel" Guide
($49 Value)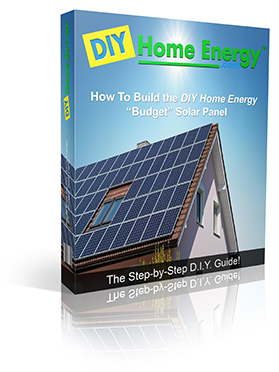 This guide shows you, step-by-step, how to build a 2nd type of solar panel (i.e. our "Budget Solar Panel) which costs less than $80 in parts!
The neat things is …you can use the tips and tricks we show you in this guide to not only build the "Budget Solar Panel" …but you can also pick and choose which parts of this guide you want to use when you build our our Main DIY Home Energy solar panels. And by doing this, you will dramatically lower your costs.
If you are someone who really wants to accelerate your results and use a lot of solar panels right off the bat but you have a limited budget (or if you just want to build the most efficient solar panels possible for the lowest price) then you will love the "Budget Solar Panel Guide!"
For example, in the "Budget Solar Panel Guide", we show you things like:
What parts in your solar panel you can swap out for ones that cost less (without it affecting the performance of the solar panel)
And how to find dirt cheap solar cells that perform perfectly - but have minor cosmetic issues. And as long as you don't really care that your solar cells have rough edges or minor scratches (which nobody will notice and won't affect the solar panel's performance) …you can buy these deeply discounted solar cells for rock bottom prices at a few secret sources we'll show you.
The "Extended, Budget Addition"
Of the DIY Home Energy System
($41 Value) There are

2 products

in the "Extended Budget Addition":
Product 1) How to Get Free Solar Panels Guide ($19 Value)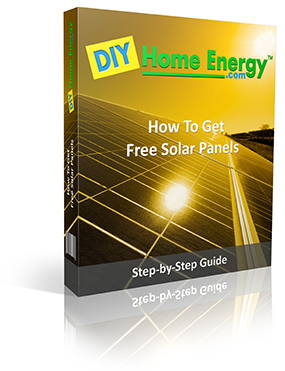 You've probably seen solar panels used to power billboards, street lights/signs, and outside of government and business buildings.
But did you know that there are local government agencies and even some large businesses that give away these solar panels for free because they are upgrading to newer models?
…And since their old solar panels are just sitting in warehouses (and because these Businesses and Government Agencies are not in the business of selling used solar panels) …all you have to do is call them up, know exactly who to contact, and ask the right questions and there's a decent chance you'll get some of these solar panels for free!
And you'll be doing them a favor because you will be freeing up their warehouse space. And we'll show you how to do this in this detailed, step-by-step guide.
Product 2) How To Make Homemade Solar Cells Guide ($22 Value)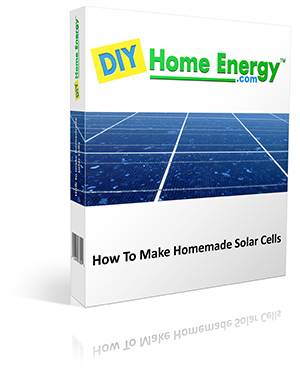 With the "Platinum Package" we are also going to include an entire guide that shows you "How to make your own homemade solar cells"!
Typically solar cells are your biggest cost when building a solar panel …so this will save you an incredible amount of money if you choose to make them yourself. And it's probably a lot easier than you think!
Plus,

Upgrade Now

and you'll also get...
| | | |
| --- | --- | --- |
| | Alternative Energy & Living Green Package | |
($93 Value)
The "Alternative Energy & Living Green Package" includes these 6 products:
Upgrade
Now

to the Platinum Package...
(Total Value $317)
Once you leave this page, the offer is gone and you will have to pay full price for the same information.
Upgrade now and receive all these products for a very low one-time cost.
By upgrading now you'll receive everything above. Normally this would cost $317, but upgrade right now for the unbelievable price of only $67.
*This is the only time you will ever see this offer*
Only $67
One-Time Payment
And you still have our Iron Clad 100% Money Back Guarantee Refund Policy.
So if you are not 100% Satisfied with all of the information here, just send us an email for an immediate refund, no questions asked.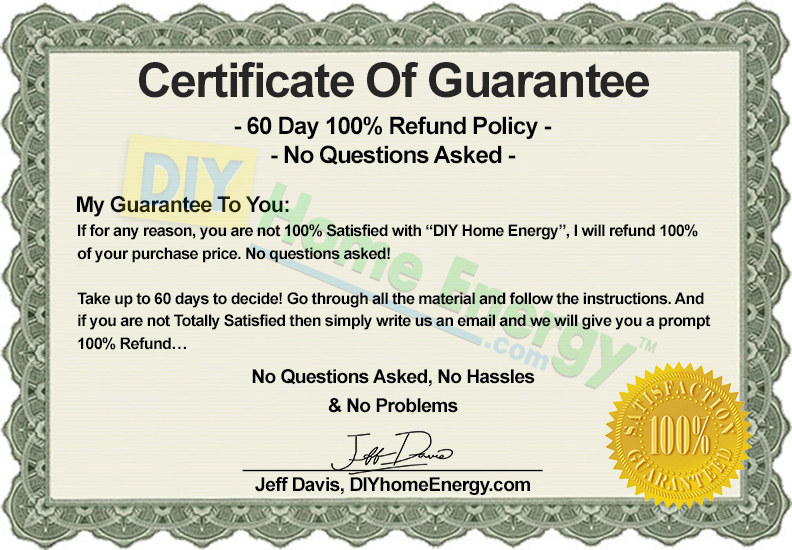 Only $67
One-Time Payment